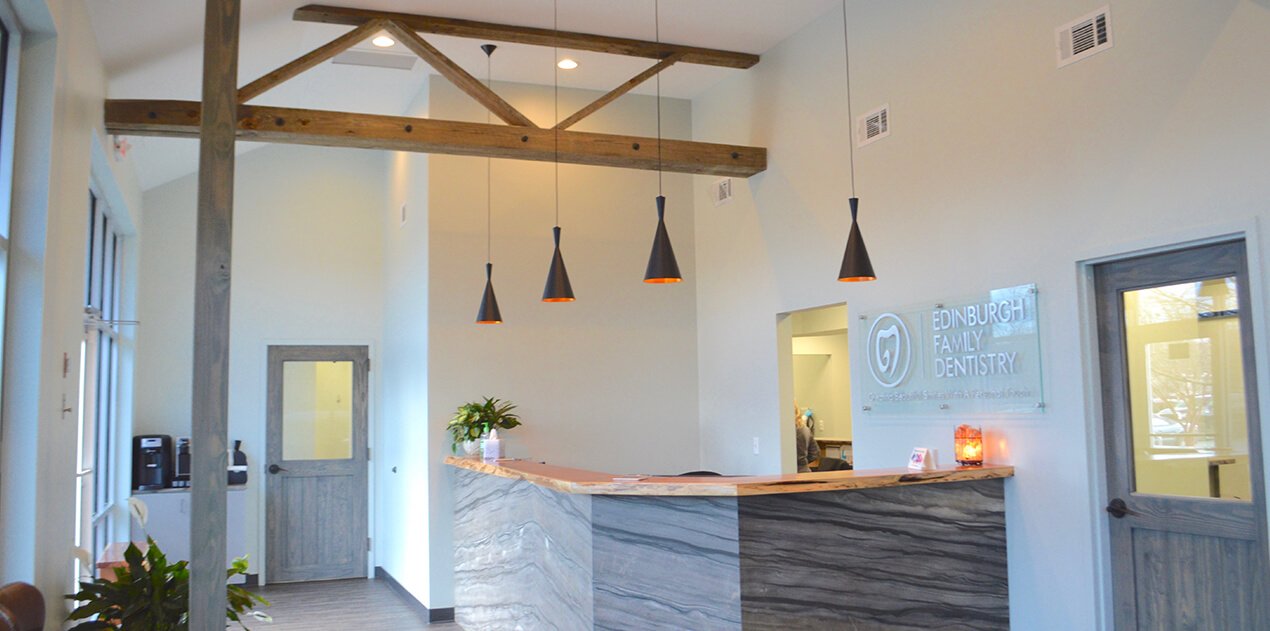 About Our Dental Office in Chesapeake, VA
Edinburgh Family Dentistry in Chesapeake is a modern dental office designed around your comfort.
We know the dental office is probably not your favorite place in the world, but we do everything we can to make sure you still enjoy a pleasant visit. Inside our practice you'll find different amenities and dental technologies that we have to help you feel relaxed and experience more efficient, patient-focused care. If there's anything we can do to make you feel more comfortable or if you'd like to learn more about any of the dental tools that we use, please feel free to speak to one of our team members.
Contact Us
Take a Virtual Tour
Scroll through our slideshow to get a look at our modern dental office. If you'd like to get a look at our space in person, we are happy to give you a walkthrough. Just contact us and we'll set something up!
---
Amenities for Your Comfort
We've carefully designed our practice to be a welcoming space that makes you feel at ease. Throughout our office, we have different amenities for both adults and kids to enjoy. We offer WiFi so you can connect from anywhere in our office. In our reception area, you'll find an iPad station, complimentary beverages, and a play area for kids. If music is relaxing to you, please feel free to bring your headphones to listen to your favorite tunes during your treatment.
---
Technology for State-of-the-Art Care
On top of caring for your comfort, we've invested in leading-edge technology that ensures you're receiving top-notch care. We use digital X-rays, which not only deliver precise images more quickly but also are safer for you. Another helpful tool we have is our intraoral camera, which we use to take images of your mouth so it's easier than ever for you to see exactly what we see. With all of our instruments, we use a visible sterilization process and third-party testing because your health is always our number one concern!
Patient Reviews

"I've been a patient at this office for over 7 years & highly recommend it! They have state of the art technology & friendly staff. You won't be disappointed!"
- Troy F.

"I have an extreme dental phobia and massive anxiety. This office was so patient, kind, and absolutely made it the best experience they possibly could have."
- Ashley W.

"Outstanding office & staff! I have nothing but great things to say about this dental practice!"
- Laura M.

"I love this dental practice. Everyone is so friendly and helpful. I'm always greeted by smiling faces. Dr. Curling is very gentle and caring."
- Kelley M.
Read More